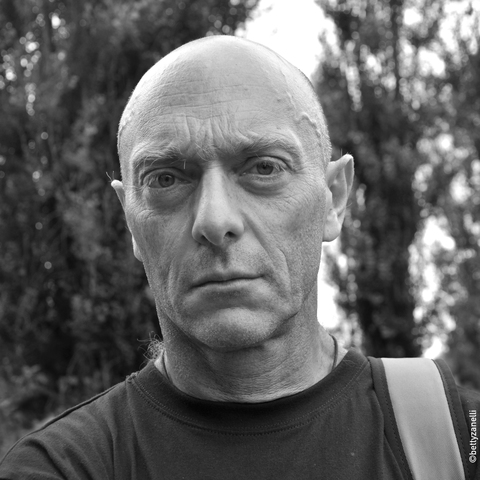 Italian composer and saxophone player Marco Visconti-Prasca studied composition with Franco Donatoni, Ivan Fedele, and Andrea Talmell; Jazz Arranging & Composition with Francy Boland, Bill Dobbins, Bill Holman & Herb Pomeroy; and Saxophone with David Liebman, Steve Grossman, Sal Nistico and Andy Scherrer.
Visconti-Prasca holds degrees from "Civica Scuola di Musica-Sezione Contemporanea" in Milan, (B.A. in Composition), from TUFTS University (Medford, U.S.A., M.A. in Music Composition with John McDonald), and from the University of York (PhD in Music Composition with Roger Marsh) Visconti-Prasca's musical language is the byproduct of the composer's influences from both jazz and "contemporary-classical" practices. Visconti-Prasca, indeed, avoids producing surface material 'driven by overly schematic generative procedures: in his music the post-serial processes of pitch-manipulations – brought into play to produce the raw building blocks – are freely subdued to both the formal designs, generated by the needs of a rhythmic agenda in which the influences of Afro-American music vigorously come to the fore, and the improvisational-like instrumental gestures, which aim at loosening and breaking the regularity of the rhythmic pace.
Since 1996 Visconti-Prasca's music has been performed mostly in Italy, the U.S.A. and, more recently, in the U.K. His works have been performed by notable soloists and ensembles such as Rohan de Saram, Roger Marsh, Anna Maria Morini , Claudio Ortensi, Marco Pedrazzini, David Liebman, Bobby Watson, the "Orchestra Sinfonica G. Verdi", the "Brave New Works Ensemble", and the "Black Hair Ensemble," and were heard in venues such as the "Auditorium di Milano," the "Teatro Lirico" in Milan, the "Early Music Center" in York, the "Sir Jack Lyons Concert Hall" in York, the NEC Auditorium in Boston.
Visconti-Prasca has taught from 1997 to 2003 at the "Civica Scuola di Musica" in Milan Italy and gave lectures and seminars in both the U.S.A. and Italy (Harvard University, New England conservatory, The Atlantic Center for the Arts, G. Verdi Conservatory Milan). He performs extensively as a free-lance musician as well as a leader of his own ensembles: the "DadA'-Orchestra" & the "DadA' 4et" (a saxophone quartet) – with David Liebman; Lee Konitz; Enrico Pieranunzi, Bob Brookmeyer "Slide" Hampton, Bobby Watson & David Murray. As a conductor he worked for Markus Stockhausen and the flutist James Newton. In 2007 Marco V.P. was in the founding group of the international ensemble "Live Streaming Music Workshop" as its Music Director.
Some of his work as an improviser included performances with George Lewis, Joelle Leandre, Ken Ueno, Will Edmondes and the Italian filmaker Gian Maria Manvati. The more recent performances were: -the 'live improvised' music for Elena Bellei's act 'Nemmeno Un Petalo' (September 2011); -in July 2011 performed (baritone and soprano saxophones) and acted in Stefano Vercelli's staged performance 'Japan Jazz' with the American Dancer Teri Weikel; -the act 'Flora's Show' (June 2011) with the Nigerian writer Samuel Umoette and the percussionist George Hanson (Ghana) at the 'D406′ art gallery in Modena (Italy); -in May 2011 performed 'Magnolia Springs Unfurls' for baritone saxophone & live electronics he commissioned to the British composer Stephen Davismoon.
"Marco Visconti-Prasca's [music]… energetically discoursed in a vocabulary that, while hinting at both cafè jazz and Messiaen-like refraction, was idiosyncratically original."
Matthew Guerrieri on the "Boston Globe" (June 25th 2007).